A Level Results Day
12 August 2021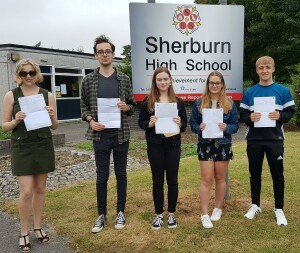 After a challenging two years for our Year 13 students, there were tears of joy and laughter when they opened their A-level results envelopes this morning at Sherburn High School. They depart us for top universities and apprenticeships across the UK, from Imperial College London to Durham University, Medicine to Law - they have all made us immensely proud. Despite their atypical journey, they've kept their spirits up, worked really hard and demonstrated real grit and determination befitting of our Team Sherburn spirit.  As a school, we are delighted that they can now move forward into the next phase of their lives and we wish them all the very best for the future.
Headteacher Miriam Oakley commented "Yet again our Sherburn students have done us proud. They've emulated and exceeded their terrific GCSE results 2 years ago and it is testament to their work ethic and perseverance throughout a Sixth Form journey like no other. I can't wait to hear about their successes beyond life at Sherburn High School - they completely and utterly deserve the excellent results they have received today."
Head of Sixth Form Dan Kirby commented: "Wow! Yet again our students have done us proud here in our Sixth Form. They've had a turbulent time since they began their journey with us in Year 12, but they leave us being the most resilient bunch yet. You've achieved incredible things, we're immensely proud of you all and wish you every success for your next steps whatever they might be - well done!"